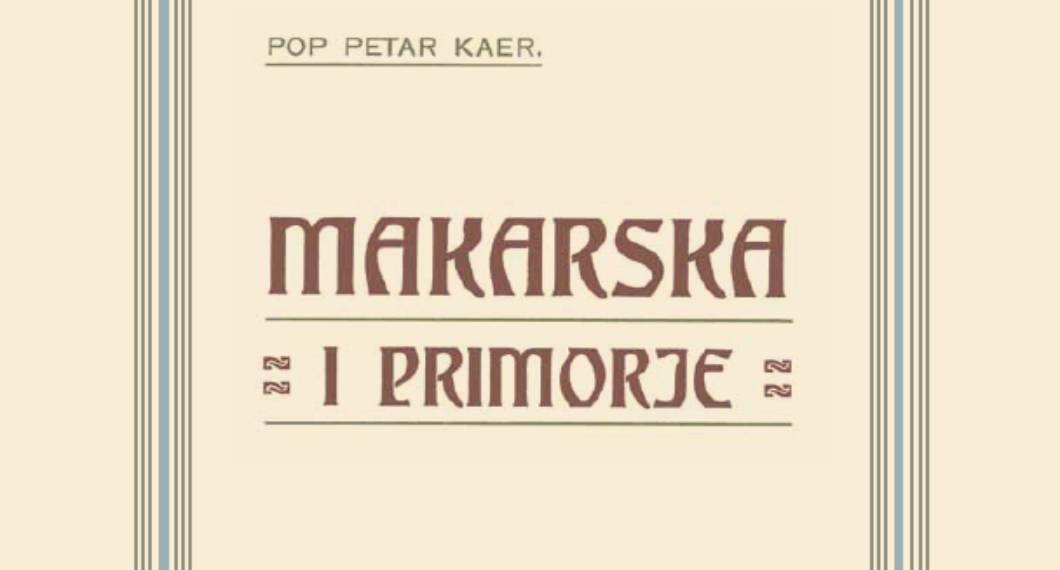 NOVO! Don Petar Kaer - Makarska i Primorje
S Biokovom se lanac Dinarida najbliže približio moru nadmašujući i impozantnost Alpa širinom fasade koja se zrcali nad kanalom koji ga dijeli od Brača, Hvara i Pelješca. Zemljopisne, arheološke, kulturno-povijesne i političke, ali i antropološke značajke tog prostora najsugestivnije je opisao upravo don Petar Kaer u knjizi Makarska i Primorje. Don Petar Kaer (Makarska 1848. – 1919.) zanimao se za povijest i arheologiju što je vidljivo u njegovom djelo kroz mnoge povijesne podatke, navedene natpise i citiranu literaturu. Upravo ga je ljubav prema zavičaju potaknula da napiše preglednu i lijepo ilustriranu knjigu o rodnoj Makarskoj, o njezinom kulturnom i materijalnom napretku. Sam Kaer o tome piše: "Kada rodjeni Makaranin uzme listati najnovije knjige koje se bave opisom Dalmatinskih gradova, zebnja tišti njegovu dušu, kako je u nekim predstavljena Makarska i Primorje u slovu i slikama." Kako bi to ispravio prihvaća se pera te je 1914. godine u Rijeci objavljena knjiga Makarska i Primorje.
Kaer djelo započinje opisom Biokova, a zatim prelazi na samu Makarsku, Donju luku i Vepric. U tom opisnom dijelu pažnju ponajprije privlače mnoge fotografije, a zatim Kaerovi opisi palača, crkava i spomenika. On donosi i crteže nadgrobnih ploča s natpisima i grbovima što je važno za heraldiku. U drugom dijelu knjige prati razvitak Makarske od kraja 17. do početka 20. stoljeća i to kroz velike cjeline kao što su socijalna skrb, školstvo, knjižnica i arhiv, promet i trgovina, obrti i ribarstvo, tvornica tjestenine i zadružni život. Temeljeći svoje analize i sudove na dokumentarnoj građi, Kaer daje zaokruženu sliku urbanističkog, umjetničkog, socijalnog i gospodarskog razvitka Makarske. Stoga je njegova knjiga višestruko važna i nezaobilazna za proučavanje tog dijela Dalmacije.
Knjiga don Petra Kaera Makarska i Primorje nije samo inkunabula važna za proučavanje biokovskog kraja, nego ostaje uzornom paradigmom interdisciplinarizma i poimanja kulturno-povijesnih prilika. Bogatstvom te raznovrsnošću podataka i fotografija predstavlja zanimljivo djelo kako za stručnjake različitih struka, tako i za širu čitateljsku publiku zainteresiranu za proučavanje zavičajne povijesti Makarske i Primorja.
Iz recenzija Josipa Belamarića i Arsena Duplančića.
Više o knjizi pronađite na linku.