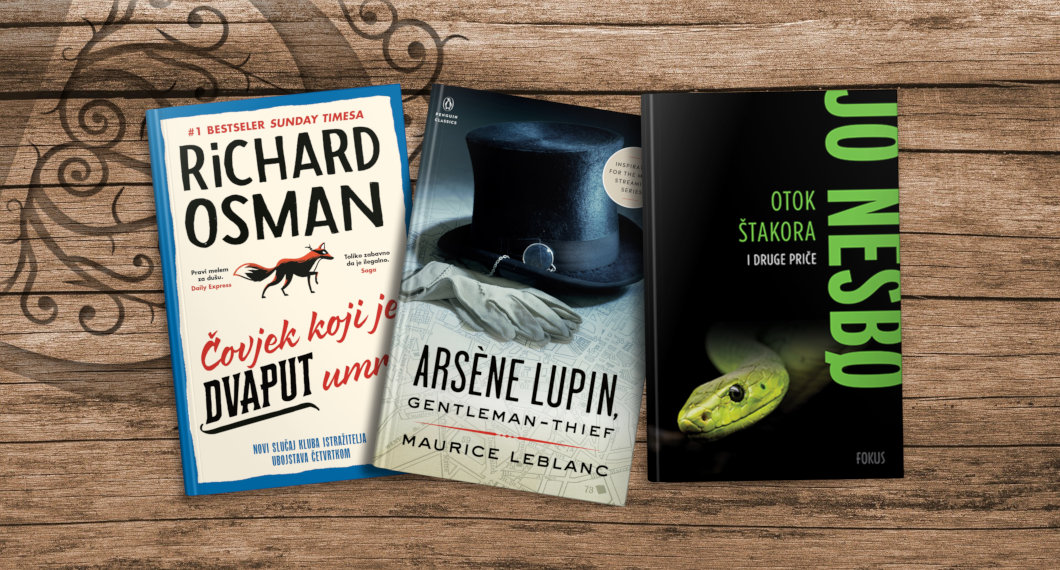 Izvrsna ponuda kriminalističkog romana i trilera!
Jeste li znali da nitko zapravo ne zna tko je autor prvog kriminalističkog romana? Iako se spekulira da su autori poput Edgara Allana Poe-a ili Wilkie Collins bili preteče žanra, prvi je kriminalistički roman Misterij Notting Hilla kojem je autor nepoznat (postoji samo pod pseudonimom Baron R). Dok ste vi u potrazi za autorom prvog kriminalističkog romana, mi vam donosimo nekoliko novih autora i knjiga koje ćete pročitati u jednom dahu.
Kriminalistički romani i trileri posebno su stimulirajući za mozak upravo zato što misterij dodatno aktivira moždane stanice kako bi pokušao otkriti tko je krivac i otkriti svaki detalj misterija prije nego li to autor učini za nas. Osim što će stimulirati vaše moždane vijuge, dobar kriminalistički roman mora vas i zabaviti, stoga je naša prva preporuka roman Čovjek koji je dvaput umro, Osmana Richarda.
Ovaj roman intrigantnog naslova poznatog britanskog novelista Richarda Osmana nastavak je priče o Klubu istražitelja ubojstava četvrtkom. Osim što je bivši muž jedne od članice Kluba optužen za krađu milijunskih dijamanata, uskoro dolazi do prvog ubojstva čime se misterij dodatno zakuhava. Osman, ujedno britanski komičar, zabavit će vas britkim humorom i zabavnim kriminalističkim romanom kojeg ne smijete propustiti.
Ako ste ljubitelji dobre kriminalističke serije ili filma, a želite dodatno razumjeti likove ili jednostavno želite pročitati knjigu nakon što je već ekranizirana, naš idući prijedlog je roman koji je senzacija među ljubiteljima krimića: Arsène Lupin, Gentleman-thief, autora Maurice Leblanca. Knjiga koja je inspirirala najnoviju Netflixovu seriju Lupin donosi vam priču o Lupinu kojeg možemo nazvati modernim Robin Hood-om. Lukavi kradljivac vještim spletkama i intrigama krade od bogatih članova društva, a sve to možete pratiti na čak 278 stranica fantastičnog štiva.
Benefiti čitanja kriminalističkih romana svakako su lakše nošenje sa stresom i stresnim situacijama. Osim što ćete se susresti s mnoštvo različitih stresnih situacija u samim romanima, trileri i krimići probuđuju maštu i pomažu vam u svakodnevnim izazovima. Jedan od naslova koji će vas držati na rubu stolice, fotelje ili kauča je Otok štakora i druge priče, autora Jo Nesbo - pet uzbudljivih priča iz bliže budućnosti.
Znamo da smo ovim fantastičnim knjigama probudili detektiva u vama i da želite otkriti kakvi se misteriji kriju u njima, ali i gdje ih možete nabaviti . Taj misterij ćemo vam ipak mi otkriti – romane možete nabaviti u Knjižari DOMINOVIĆ koja se nalazi u zgradi Nacionalne i sveučilišne knjižnice u Zagrebu. Knjižara DOMINOVIĆ ima pregršt novih naslova, novih autora i knjiga svih žanrova, a pravi ljubitelji knjiga mogu uživati u njihovom klubu vjernosti. Otkrijte njihovu bogatu ponudu i upustite se na novo književno putovanje.